The Power of Smaller Staffing Firms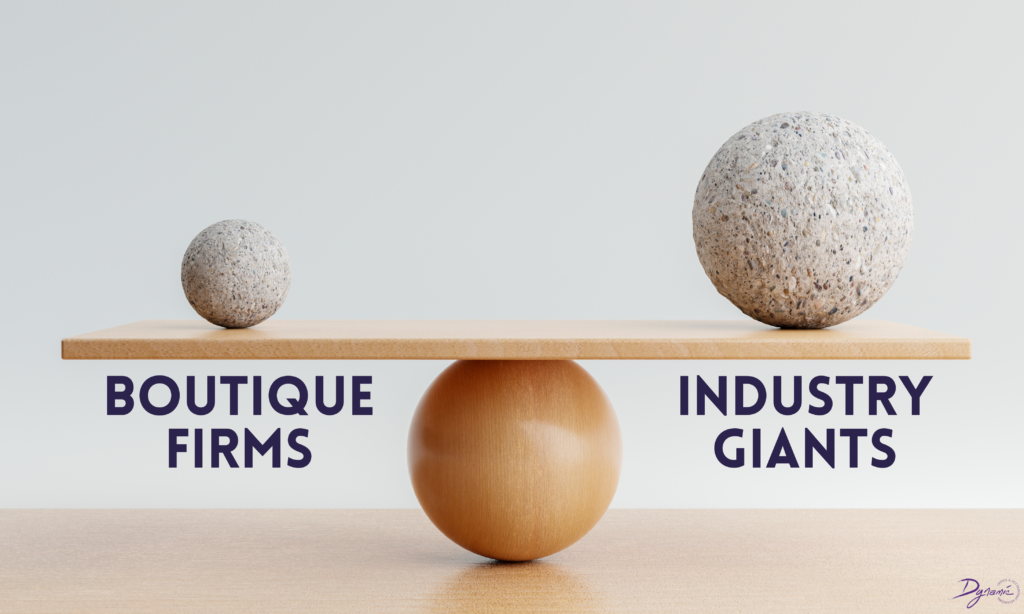 Smaller Staffing Firms vs Industry Giants
In the competitive world of recruiting, many firms emphasize the size of their candidate databases as a measure of their success. However, it's important to recognize that a large volume of names does not guarantee quality, availability, or candidates who are truly suited to your company's unique hiring needs. This is where smaller staffing firms shine. In this post we will explore the advantages of partnering with a smaller firm that takes the time to understand your company's goals, culture, and specific requirements.
Understanding Your Company's Needs
Unlike larger firms focused on quantity, smaller staffing firms prioritize quality over numbers. They invest the time to comprehend the big picture of your company, department goals, and work culture. By gaining a deep understanding of your needs, they can align the best-suited candidates for your team, resulting in fewer but more relevant resumes. These firms take the initiative to learn about your business, overall work environment, wish list, and how a vacancy affects your team and customers. You're not just another number to them; they genuinely care about providing a focused and targeted service that saves you money and reduces your time to hire.
Transparent Communication
Effective and transparent communication is a hallmark of smaller staffing firms. These firms prioritize open and candid dialogue with their clients. By promoting a transparent communication channel, they ensure that you are kept well-informed throughout the hiring process. You can expect consistent updates on the progress of your search, including potential candidates, upcoming interviews, and feedback whether or not there is a candidate in play. This level of transparency allows for ongoing collaboration that keeps you and your staffing firm aligned, leading to more successful outcomes.
Building Strong Relationships
Smaller staffing firms understand the value of building strong relationships with their clients. They aim to develop a deep understanding of your company's culture, values, and long-term goals. By forging strong relationships, they become invested in your success and are motivated to provide exceptional service. These firms take the time to learn about your business, work environment, and team dynamics, enabling them to identify candidates who are not only qualified but also a cultural fit. With a strong relationship in place, you can expect a higher level of trust and collaboration, leading to more fruitful hiring decisions.
Adding Real Value
Smaller staffing firms are dedicated to adding real value to your organization. Their industry experience and expertise allow them to offer valuable insights and guidance throughout the hiring process. They leverage their knowledge to help you make informed decisions and navigate any challenges that may arise. Additionally, these firms have the ability to work with you through budget fluctuations and understand that financial constraints can impact your hiring strategy. They work proactively with you to optimize your resources and find cost-effective solutions without compromising on quality. This flexibility and willingness to accommodate your unique needs demonstrate their commitment to providing a service that adds real value to your business.
Flexibility in Terms
One of the benefits of partnering with smaller staffing firms is their agility in contract negotiation and issue resolution. Unlike larger firms bound by bureaucratic red tape, smaller firms can swiftly negotiate contracts that are mutually beneficial. This efficiency enables you to get your search started without unnecessary delays. Furthermore, should any issues or concerns arise during the engagement, smaller staffing firms are proactive in addressing them promptly. They value your satisfaction and work diligently to resolve any challenges that may arise, ensuring a smooth and hassle-free experience.
Accommodating Your Business Seasons
Smaller staffing firms understand that businesses go through different seasons, with varying hiring needs and budgetary considerations. They are more likely to work with you creatively when it comes to service agreements. Whether you require temporary staffing during peak seasons or more permanent placements, these firms are flexible in tailoring their services to your specific business cycles. They take the time to understand your evolving needs and are dynamic in their approach, ensuring that they provide the right solutions to support your business's growth and success.
Tailored Solutions for Your Business
Smaller staffing firms understand that each business is unique and has its own set of challenges. Unlike large firms that often employ a one-size-fits-all approach, smaller firms are nimble and adaptable. They offer tailored solutions that align with your specific requirements, ensuring that the candidates they present are not only highly qualified but also a good fit for your company's culture. By focusing on quality, small firms can deliver candidates who have the potential to make a lasting impact on your organization.
The Power of Smaller Staffing Firms
Overall, partnering with a small boutique search firm offers a more targeted, personalized approach to staffing that can help you find the most qualified candidates for your team.  If you are looking for a partner over a vendor, a smaller staffing firm might be the right choice for you!